The steps below provide you the best practices for preparing a thorough and effective response to an EEOC Charge.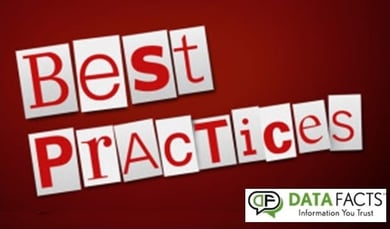 Step 1: Conduct a thorough investigation of the facts
Usually, human resource professionals know about disgruntled employees and have already been involved with them in resolving issues and complaints. There are, however, those instances where you receive an EEOC charge from an employee or ex-employee, or even a job applicant about a background check, who never lodged a complaint about issues in the workplace. When this occurs you should ascertain the key players. Once you do so, you should notify them you will expect their cooperation in responding to the charge.

We recommend you conduct a thorough investigation into all of the allegations in the charge. Even if you strongly believe that some or all of the charging party's allegations lack merit, question key players about them anyway in case they know something that you do not.
Interview the people you have identified as key players and monitor their compliance with the litigation hold. It is equally important to review the documents you receive from them to identify any discrepancies in, or consistencies with, the witnesses' stories. You will certainly want to assess the strength of the charge at this stage and determine whether there are bad facts that could decrease your desire to litigate the case in court.
Remember to advise all interviewees that the matter is confidential and that the company strongly prohibits retaliation.
Step 2: Prepare a thorough response

An effective response usually includes the following components and information:
1) Identifies your company and what it does
Often, your charge response is the EEOC investigator's first introduction to your company. Tell the investigator where your company is located and what it does to provide context to the response. Let the investigator know if the company has been misidentified by name or address.
2) Identifies the key players and their roles
Good storytelling involves the clear identification of the main characters. When you identify a new person in the charge response, include relevant information about that person, including job title. For example, in an age case involving a reduction in force, identify the ages of the decision-makers and the age of any replacement employee, if applicable.
3) Addresses each charge allegation
A major pitfall in the response process is neglecting to address all of the allegations. If the charge alleges race, national origin and sex discrimination, as well as retaliation, then your response should address each category as well. Failing to address each type of harm identified can raise a red flag with the investigator and damage the credibility of your response.
4) Points out inconsistencies or misrepresentations in the charging party's story
It is not uncommon for charging parties to misstate or misrepresent facts in their charges. Calling these errors to the attention of the investigator can strengthen your credibility and cast doubt on the credibility of the charging party.
5) Highlights your company's training, policies and practices
Investigators are looking for evidence that your company is conscientious and proactive in preventing and correcting discrimination, retaliation and/or harassment in the workplace. They want to know if you have EEO, harassment, discrimination and anti-retaliation policies, workplace posters, comprehensive handbooks and training programs. If you do, and they are relevant to the charging party's claims, highlight them in the response.
6) Includes attachments of key documents
Attachments are not always necessary but can be helpful in the right circumstances. For example, if the charging party alleges sexual harassment, consider attaching a copy of your company's sexual harassment policy, a copy of the charging party's handbook acknowledgment, and a copy of the sexual harassment training sign-in sheet signed by the charging party.
7) Reserves your right to amend
Unforeseen circumstances can arise where you may need to amend or supplement a response. The sooner you correct a misstatement or error in your position statement the less likely the error can be used to undermine your credibility. You should include a statement in the response that says something like, "Respondent reserves the right to supplement or amend this charge at any time."
8) Invites the investigator to contact you for questions
Making yourself available to the investigator to answer any questions following your submission of the response fosters goodwill and leaves the impression that the employer is cooperative and forthcoming.
Step 3: Circulate the draft response to those who provided substantive input
If you solicited input into the response from anyone, permit them to review the draft response before it is finalized to check for errors or inconsistencies.

Step 4: Decide whether you want to entertain an early resolution
Even if you do not settle, mediation generally offers employers at least four distinct benefits. First, you can use it as a method to obtain free and early discovery from the charging party. Second, you can assess the level of seriousness with which the charging party approaches the matter. We have attended mediations where what the charging party really wants is an avenue to vent and an apology from someone with authority. Third, you can gain additional time with which to file your charge response, and fourth, if you are lucky, you may have a mediator who will clearly explain to the charging party that the charge has no merit. This can have a powerful effect on the charging party's future legal actions.
Step 5: Be prepared for the next step
In our experience, roughly 50% of charging parties who receive a notice of right to sue without a cause finding do not pursue a lawsuit. By following these guidelines, if your charging party is among the other half that files a complaint, you will be well positioned to substantially assist your counsel in defending the case and reaching a successful resolution.
Robin B. Taylor, Atty is this week's guest blogger. Her practice focuses on defending employers and management in employment-related disputes, including disputes involving allegations of discrimination, harassment, retaliation, wrongful discharge, failure-to-accommodate, FMLA interference, non-competition and non-solicitation covenants, trade secret, and other related state and common-law claims. Ms. Taylor also represents employers in labor arbitrations, union elections, and proceedings before the National Labor Relations Board.
Ms. Taylor graduated cum laude from Tulane Law School, where she was a member of Phi Delta Phi. Ms. Taylor attended college at Belhaven College and graduated magna cum laude with a Bachelor of Science in Psychology.