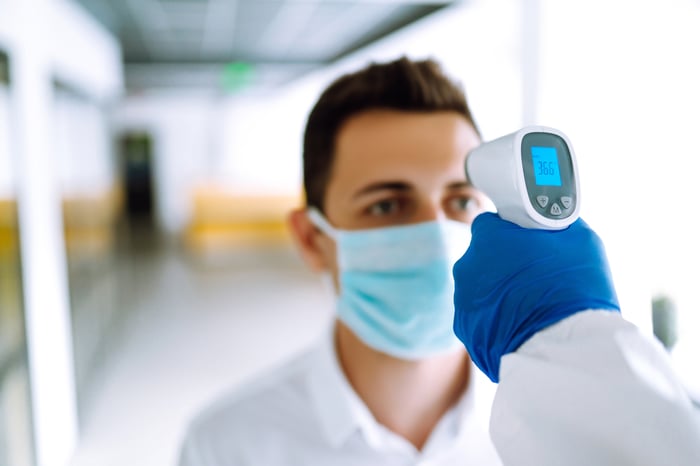 States are opening back up and organizations are starting to bring work-from-home employees, as well as furloughed ones, back to their original work spaces. However, employers can't simply open the doors and proceed as though everything is back to normal. COVID-19 is still a serious concern and spreading it is as easy as it's ever been.
While there's a need for organizations to bring back workers, and there's certainly a need to workers to earn a paycheck, companies need to proactively plan to keep everyone safe and healthy.
Otherwise, workplaces run the risk of one person passing it to multiple employees until the entire company is overrun with COVID-19. This would have dire consequences, like:
Loss of productivity
Mass employee absences
Inability to fulfill orders
Loss of employee trust
Bad press
Keeping every employee healthy and virus-free means taking steps to keep the chances of virus spreading across the workplace low.
The common protocols we are hearing people take are:
Asking employees questions. Daily questions about how the employee is feeling, if they have been in contact with anyone exhibiting COVID-19 symptoms, and if they have traveled to a hotspot are all accepted and widely used inquiries in many employer plans.
Taking temperatures. Checking every employee's temperature as they come to work, and sending those with a spike home, is another popular maneuver employers are using to decrease the chance of spreading the virus.
Requiring masks. Every employee wearing a mask can further protect them during work hours.
Creating one-way hallways. Social distancing is difficult in narrow office and plant hallways. Setting up one-way walking spaces assists in helping workers maintain their distance from each other.
Staggering work hours. Instead of requiring all employees to come to work and leave at the same time, creating bottlenecks and crowded areas, setting up start and quit times in shifts decreases the chance of spreading the virus.
Restricting shared spaces. Break rooms and lunchrooms can get crowded and be breeding grounds for passing germs around the workplace. Closing them or only allowing smaller numbers of people in at a time keeps social distancing protocols in place.
What about additional measures? Many employers may not be completely comfortable with only putting these plans in place. When it comes to protecting the workplace and ensuring employee safety, HR may need to increase the efforts by adding testing and monitoring procedures. Fortunately, there are a variety of ways businesses can use technology to accomplish this.
First off, HR may consider testing returning employees by:
Requiring COVID-19 testing. There are vendors who can set up on-site testing with either blood tests, nasal swabs, and/or saliva testing. The samples are sent off and results come back in 36-48 hours. Testing returning employees gives HR a baseline. After that, the actions listed above can be effective in weeding out people whose behaviors have made them high risk. Employers, especially those that work with high-risk populations, may choose to invest in COVID-19 testing for all employees periodically. Others may decide to test if the employee has a fever or is showing other signs of the virus.
Antibody testing. Finding out which employees have already had the virus is helpful. This information can assist in setting hours, planning social distancing, and assigning people with tasks based on if they possess the antibody or not. HR may decide that, in addition to COVID-19 testing, requiring antibody testing is necessary.
NOTE: The CDC does not have a clear determination if the antibodies that result from SARS-CoV-2 infection will provide someone with immunity from a future infection yet. If antibodies do provide immunity, we don't yet know what "titer", or amount, of antibodies would be protective, or the duration of that protection. CDC scientists are conducting studies to better understand the level of antibodies needed for protection, the duration of that protection, and the factors associated with whether a person develops a protective antibody response.
A second step in keeping the workplace safe is to monitor employees with:
Smart device applications can gather information about an employee's behaviors that can give a picture of his or her risk. And it makes it easier and less time consuming than having another employee physically ask these questions.
Ongoing temperature checks. Instead of asking for workers to take their own temperatures, employers may decide to invest in Bluetooth thermometers that automatically takes every person's temperature and sends it to HR. This takes the burden off the employee and gives HR an accurate reading of the staff they need to be concerned about.
One thing is certain. As businesses re-open and call back employees, we are all bound to experience differences in the way the average day unfolds. By having a plan in place on the front end and taking proactive steps to minimize the risk, employers can keep the workplace safe and virus-free, and keep their employees healthy.