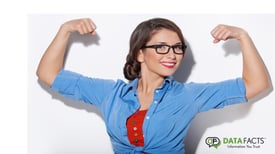 The EEOC guidance has created concern for employers who utilize criminal records searches as part of their hiring process.
What can you use, when can you use it, and how are you able to use it?
These questions can overwhelm even seasoned HR professionals, and it's important to address the concerns of utilizing criminal records checks in a background check.
As an employer, it's vital not to chuck the criminal records searches altogether. Abandoning a screening policy can have a
negative impact
on the
safety of the workplace
and the quality of the employees.

Don't lose your hiring mojo!
We have outlined a background screening pointers to help establish a compliant background check policy that will still guard against bad hires.
Eliminate any "we don't hire anyone with a criminal record" policies. These blanket policies no longer fit into a compliant background screening policy.
Ensure all the people involved in the hiring process are well-versed on the EEOC guidance, and that they are trained and prepared to implement all relevant policies and procedures.
Edit the current employment screening process so that it is more narrowly tailored and clearly explains how criminal records searches are used during the hiring process.
Pinpoint the specific job requirements of each position, and determine the specific offenses that would prove to make that job a bad fit for an applicant.
Limit questions about criminal records to only those offenses that relate to the specific position in question.
Examine all the evidence and determine the duration for exclusions of criminal conduct, and record this justification.
Retain documentation of all consultations and research that went into crafting the specific policy and procedures.
In addition, give thoughtful consideration to the factors below during the hiring process before you decide not to hire a person based on whole or in part on the background check:
- the facts and circumstances surrounding the offense
- the number of offenses
- age at the time of conviction
- any evidence the individual performed the same type of work after the conviction, without any known incidents of criminal conduct
- length and consistency of employment, before and after the offense
- whether or not the individual is bonded or bondable
Investing a small amount of time to look at your company's current employment screening policy and to implement these changes, you will accomplish two goals: maintaining total compliance with the EEOC guidance AND protecting the safety and the integrity of your workplace.
And that will increase your hiring mojo.