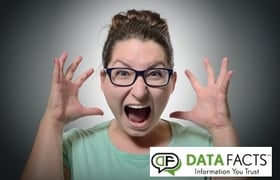 Over the years, we have seen our background check tools unearth many scary surprises that were hiding deeply in applicants' histories. Job candidates who look perfect and sound great can still harbor dangerous skeletons in their closets, and those can be detrimental to the safety of your workplace.
The employers were shocked, because sometimes the candidate in question looked seemed ideal.
Since it's Halloween, we thought we would trot out some of the scariest background situations that will make you SCREAM, and give you a plan on thwarting these disasters!
The promising applicant turns into one of the undead after he is hired.
SITUATION: The resume was flawless and his appearance was pristine. His answers were well-thought out and inspired. Unfortunately, once you hired him, he is unproductive, has a rotten attitude, and poor attendance.
PLAN: Accept that a job seeker can look like a dream on paper and during the interviewing process, even if he or she is a terrible employee. Add reference checks into your background screening tools if you don't perform them already. Check the references thoroughly, verify dates worked, the specific tasks the applicant performed and the overall attitude towards the person has toward work.
Some of the black cat's 9 lives were extremely unsavory.
SITUATION: If employers don't screen carefully they could end up hiring a person who has dangerous habits and behaviors. Criminal convictions are important to know about and discuss with the candidate. Job candidates may be hiding a criminal history that would be detrimental to a company's well-being.
Cost of a Bad Hire
PLAN: Implement a solid course of action for checking out potential employees' criminal histories. This includes a county criminal search of the county where the applicant lives, and a national criminal database search. (NOTE: make sure the type of job warrants a criminal search, and that it is relevant to the job position).
The job candidate was a murdering zombie out in Texas.
SITUATION: During the interview process, an applicant may omit entire places of residence. This may be because of a criminal history, bad driving record, a job that ended badly, or other secrets the applicant would rather you not uncover.
PLAN: be sure to order a social security search with every background check report. This search shows every address associated with a person's social security number. So, if there has been an omission, this search may uncover the grim truth.
In addition to scary scenarios that are candidate-focused, there's a really scary situations HR professionals can cause themselves if they aren't careful.
Failing to handle candidates you DON'T hire correctly.
SITUATION: If HR pros and hiring managers find information in the background report that causes t hem not to hire the candidate, it doesn't end with a "sorry, but we aren't interested." Handling this situation the right way helps avoid hiring litigation lawsuits down the road.
PLAN: Set up a process where a designated person sends out pre-adverse action letters and, after a period of 5 or more business days, a final notice of adverse action. This process minimizes the risk that the candidate will be confused or vindictive and decide to try to sue. Follow this plan with every single candidate you decide not to hire because of what shows up in the background check report.
Don't be haunted by a bad hire. By doing your due diligence up front with thorough background screening, you can avoid falling prey to these scary situations. Make sure you are hiring the best person for the job by utilizing background screening to thoroughly verify the applicant's claims. This will help you to maintain a safe, productive, zombie-free workplace.