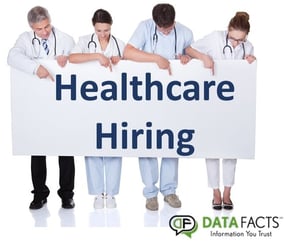 Today, healthcare companies face a variety of hiring challenges. It is integral to an effective healthcare hiring policy for employers to invest time to ensure their policy for conducting a background check on applicants is relevant, compliant, and meets hiring regulations.
Here are four best practices to make healthcare hiring a success:
Ask some questions!
To build an effective healthcare hiring policy, employers must evaluate the following questions:
1: Does our policy tell us what we need to know?
2: Is the policy structured to fit the specific job?
3: Does the policy provide protection against hires that may be unqualified, unfit, or violent?
4: Have we made sure it is fair and does not discriminate against certain protected classes?
Set up perimeters!
A: Be consistent. Write out the pre-employment screening policy and follow it with every new hire.

B. Be suspicious. It's a cold hard fact that about half of all resumes and job applications contain a mistruth. Verify all applicant supplied information relevant to the position.
C: Be thorough. The cost of hiring the wrong person and then letting them go is conservatively estimated at 25% of their annual salary. Conducting a comprehensive background check with a professional background screening company, and verifying all their information can be a big return on investment in protecting the healthcare organization from a bad hire.
Understand the risk!
Healthcare employers, as well as other employers, are legally obligated and liable during the hiring process. It's critical to keep these points in mind, because employers not prepared for their legal obligations can end up facing several types of liability.
Industry regulations: Healthcare employees must abide by strict regulatory standards. Healthcare employers who are not educated on these rules could end up facing sanctions.
Negligent hiring: No other industry has higher stakes than the healthcare industry. If an employer fails to uncover or consider pertinent criminal history, allegations may arise that the employer was negligent. Healthcare hiring must include the most stringent of due diligence processes.
Discriminatory hiring: It's a tightrope between protecting the organization and discriminatory hiring practices. Steer clear of blanket procedures in the pre-employment screening policy, such as "we don't hire anyone with a criminal record" or "we order a credit report on every applicant."
Statute violations: Every employer must abide by the FCRA, state laws, "Ban the Box" laws, and EEOC guidance. FCRA class action lawsuits are prevalent, and employers who don't follow compliant processes can set themselves up to face legal action from applicants, employees and state and federal regulators
Choose an experienced background screening company
Establishing an effective healthcare hiring policy requires a professional background screening company that understands healthcare hiring.
Choose a company that has been in business a long time, that is a member of the National Association of Professional Background Screeners (NAPBS), and that employs private investigators.
Healthcare employers must take steps to build and maintain an effective healthcare hiring policy. By asking the important questions, setting perimeters, and understanding the risk, instances of bad hires, regulatory fines, and negligent lawsuits can be reduced or eliminated.