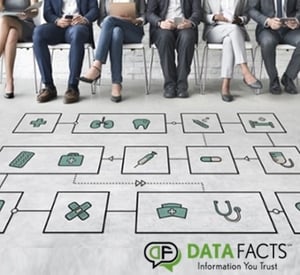 There are few industries more regulated the than healthcare industry. Not only are there seriously stiff fines in play for non-compliance, many positions in the healthcare field are literally involved in life-and-death actions and decisions.
Healthcare background checks are critical in making certain the best, safest hiring decisions are made. Data Facts has helped healthcare HR professionals make these decisions for many years, and recently added another product to their solution suite.Partnering with Innovative Enterprises, Data Facts now offers a product that contains the inclusion of a number of premium data points in its I-MED™ Alias HealthCare Sanctions and Exclusions solution. With this, the Innovative Medical Solutions™ product suite, Data Facts may identify additional relevant records not found using similar industry products or requiring the purchase of costly, additional services.
I-MED™ Alias HealthCare Sanctions and Exclusions is rapidly emerging as the industry's new gold standard for searching healthcare sanctions and exclusions. The inclusion of the SSA Death Master File and other premium data points at no extra charge aids in the detection and prevention of fraud and assists users in meeting statutory compliance and best practice guidelines which may mandate this inquiry. With a single search through I-MED™ Alias, users can achieve a greater depth of examination along with the efficiency and cost savings of not having to order multiple products and services.
Some of the benefits healthcare providers can expect from I-MED™ Alias HealthCare Sanctions and Exclusions solution are:
1500+, fully documented, direct primary sources
Sanctions, exclusions, debarments, and board actions data from all 50 states
Quick results
Thorough explanation of information returned
When it comes to healthcare background screening, few products are as transparent as this one. Other providers of similar services remain reluctant to fully disclose their sources and are holding back important features and data points in order to sell an add-on or premium. Healthcare providers are able to avoid those with this new product.
Healthcare HR professionals should look closely at the benefits of this new product, and consider adding it to their healthcare background screening process in order to minimize risk and maximize the success of critical hiring decisions.