The United States is dealing with the spread of the Coronavirus and it's affecting all aspects of life. Some industries are laying off workers as their operations slow down or close, while other industries, like healthcare, are ramping up.
If your organization is in a segment that is keeping business as almost-usual, you might be trying to move forward with hiring plans to fill open positions. But how?
You may be working from home, your applicants may not want to come into an office, and hiring might look like an uphill battle. What now?
Here are some actions HR can take immediately to keep their hiring on track during the COVID-19 pandemic.
"Well, the Thing Is…"
Update job descriptions. Effectively relaying real-time information with a clear job description has never been more important than it is now and in the coming weeks. A candidate search during this time of uncertainty is challenging, and you need to address it upfront. Add a section to the job description explaining how you will conduct your virtual interviewing process and link to your organization's COVID-19 response document. Otherwise, if applicants are worried about coming into your office to interview, they might not even apply.
"It's Showtime!"
Implement video interviews. Eyeball-to-eyeball interviews are helpful to get a person's "vibe", get a feel of how they would contribute to a company's culture, and gauge their honesty and ambition. But that's just not going to be possible in all cases right now.
Embracing technology during the interviewing process is essential in making candidates feel safe and keeping the virus from spreading. If video interviewing isn't part of your process, add it now. There are a variety of platforms that allow you to conduct video meetings with your candidates while maintaining social distancing protocols. When you schedule an interview, clearly explain the process so job candidates understand upfront the platform or software they will need to download and access so time isn't wasted.
Here are some tips on getting the most out of your video interviews.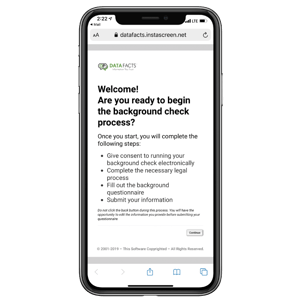 In addition, add ways for candidates to virtually participate in signing release forms and setting up their background checks. If you don't provide a way to do this from mobile devices, you must implement one NOW. This will lessen the burden of coming into an office, or in contact with someone who is potentially carrying the virus. This will go a long way toward making your hiring process seamless and keeping it on track.
"I'm Gonna Be Honest…"
Practice unapologetic transparency. Authenticity is always important and valuable, from your employer brand to your customer brand. It's going to be priceless when you're hiring during this pandemic. Train everyone involved in the process to be truthful and upfront about the hiring timeline, the job requirements, and the remote working options. If there are uncertainties, share them as well.
Glossing over information or being vague will undoubtedly turn candidates off and make them suspicious, which could send them running in a different direction.
"Show, Don't Tell."
Use project-based evaluations. During an in-person interview, those involved in the hiring process can get a picture of the candidate that they may not be able to paint if they're interviewing over the phone or by video. Once there are only a few job candidates, implement a project into the process that can showcase their talent. Hiring a graphic designer? Ask them to create an ad. Hiring a mortgage lender? Give them a fake borrower and ask them how they would handle her and what type of loan they would put her in.
Projects like this give insight into an applicant's real-world talents and can also show you how they work under deadlines and pressure.
"I Know What You Did Last Summer."
Dig Deep into Their References. You probably already ask for professional references, but there are ways to gain more information with reference checks than you may be doing now. It's critical if you can't personally meet job applicants to gather intel on their work ethic, commitment, and drive. Hire a third-party background screener who can unearth aspects of a candidate beyond dates of work history and job title. Too much is at stake to miss this step and risk hiring without it.
Covid-19 has quickly seeped into American life and is currently affecting all types of businesses. It doesn't, however, have to disrupt your hiring process. If you need to fill open positions, get creative, embrace technology, and move forward with your interviewing process. You may just be able to land some top-tier employees because other companies might put their process on hold.