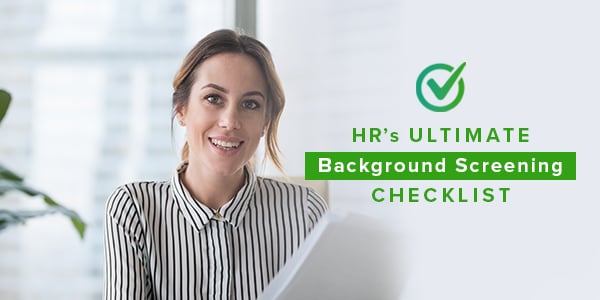 Needle in a haystack?
Hiring quality employees can be challenging to any organization. However, high-performing A-players are essential components in building a well-oiled, successful company that can serve clients and maintain a competitive edge. Unfortunately, even candidates who look promising on paper and ace the interview might still be the wrong choice.
That's why employers must look at their previous attitudes, behaviors, and performances.
Protecting your workplace and thoroughly vetting your job applicants mean conducting a thorough background check. HR needs to stay abreast of the tools available to them if they want to make the best, most informed decision possible.
That's why we created the ultimate background screening checklist.
Properly Search Criminal Records
A common misconception is that a single criminal search returns complete information on a person. It does not. Different crimes are held in different places. For example, only pulling a national criminal search can cause you to miss crucial information. Consider using county, federal and national database searches as part of your background screening process.
A Written Drug Screening Process
The drug abuse crisis can overwhelm a company! Put measures in place to avoid the risk of hiring a drug-addicted candidate. There are a variety of drug testing tools, from saliva to hair to urine testing, that can assist in uncovering a job seeker's drug use. Document when and how your company will use drug testing, and the consequences of a positive result, in the employee handbook. Make certain everyone employee, especially managers, understand it completely.
Look at Applicants' Employment History
The best way to predict future behavior is to analyze past behavior. If you're not using a third-party background screening company to conduct employment verification searches, you may be missing information on the employee's performance, honesty, punctuality, and overall motivation. In fact, he could be lying about employment dates, or may have never worked there at all!
Verify Their Education
If an educational background is essential to fill a position, don't take the applicant's claim at face value. They could have easily bought a fake diploma online. Verify all education directly from the institution through a third-party background screening company.
Every Applicant Must Sign an Agreement to be Screened
One of the key responsibilities of the employer is to disclose screening processes to the applicant. The employer must disclose in writing to the applicant that they will be the subject of a background report as part of the employment selection process. This document needs to stand alone, it does not need to be part of the employee handbook or the application.
Your Screening Process Must be Relevant on a Per-Hire Basis
Using criminal history and credit history to screen for employment is under scrutiny, and various laws have been passed or are in the works in multiple states and cities.
Practice compliance to avoid litigation!
Exclusion of applicants based on conviction records is prohibited unless the employer can show that it considered:
1) the nature and gravity of the offence or offences
2) the time that has passed since the conviction and/or completion of the sentence
3) the nature of the position held or sought.
Make sure the background screening tools you use are relevant to the specific position.
Background Checks Are Required to be Consistent Across Candidates
Checking an applicant's background because you don't like the way they look can get you sued. If you are going to screen one candidate for a position, you need to screen them all in the same manner. Set a documented policy of your background check standards and stick to it.
Mail Adverse Action Notices in a Timely Manner
If the background check returns information that makes you not want to hire the person, it doesn't end there. You must notify the applicant, provide a copy of the background report, and provide "A Summary of Your Rights under the Fair Credit Reporting Act."
The applicant may contact the background screening company if they want to dispute any information in the background report.
If the employment decision is adverse, send a notice of adverse action to the applicant. There needs to be reasonable time (usually at least 5 business days) between the Pre-Adverse Action Letter and the Adverse Action Letter.
Align Your Background Screening Process with State and Local Laws
Employment law is hot right now, and a variety of laws regarding salary history questions and ban the box have been passed recently or are in the works. Stay abreast of the regulations in the cities and states you do business. Otherwise, you could be out of compliance and open to costly hiring litigation.
Hire A Reputable Background Check Vendor
Background screeners are not created equally. Make certain you partner with one that is accredited by the Professional Background Screeners Association (PBSA, formerly NAPBS). They should have been in business a long time, and be able to explain specific protocols they have in place to ensure accuracy in the reports they return to you.
Make Sure Your Methods Are Not Discriminatory to Certain Populations
Design your policy to be objective and fair, regardless of age, race, religion and other factors. It's best to be able to prove you are compliant with all EEOC guidance by keeping records of uniform screening and hiring practices. Documentation will go a long way toward protecting you against lawsuits.
Maintain A Written Background Check Policy? D
And take consistent steps to ensure everyone involved in the hiring process understands and follows it?
A written plan covering who, how, and when you screen helps ensure your company is protected. Periodically review this policy with each individual involved in your hiring process, and make certain they understand it and are following it to the letter.
Deciding on the best people to hire while simultaneously following all compliance rules and keeping your workplace safe but effective can seem overwhelming. This is especially true in the litigious society we live in. Take stock of the procedures you already have in place, then mold and add to them as necessary, depending on what you need and what the law allows. Following this checklist will assist you in forging a background screening process that's both fair to the applicant and effective for your company.