Trick or Treat!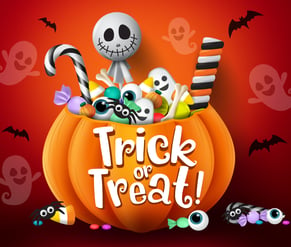 After 30 years in business, it's no surprise to us when we unearth scary information on a seemingly delightful job applicant. Perfectly groomed candidates can be sitting on dangerous skeletons in their closets. Not knowing about these issues on the front end might be detrimental to the safety of your workplace. In honor of Halloween, let's talk about a few spooky background screening situations that, may leave businesses open to a risky and dangerous hire. (Insert terrified scream here).
Spooky Situation: Some of the black cat's 9 lives were extremely unsavory.
Job candidates may be hiding a criminal history that would be detrimental to a company's well-being. Recent violent offenses, for example, pose significant risk to an organization. Hiring managers definitely need to know about this behavior in advance of bringing an applicant on board.
How to address it: Implement a solid plan for checking out potential employees' criminal histories. This includes, at a minimum, a county criminal search, as well as a national criminal database search. (NOTE - Make sure the type of job warrants a criminal search, and that it is relevant to the job position).
Spooky Situation: The promising applicant turns into a pumpkin after he is hired.
Maybe she is dressed in a nice suit, presents a flawless resume, and had perfect responses. But once you hired her, she's unproductive, has a bad attitude, and frequently misses work.
How to address it: Obtain reference checks. Thoroughly verify the references, including the dates worked, the specific tasks the applicant performed and the overall attitude towards work.
Spooky Situation: The job candidate was a murdering zombie out in Texas.
During the interview process, an applicant may omit entire places of residence. This may be because of a criminal history, bad driving record, a job that ended badly, or other secrets the applicant would rather you not uncover.
How to address it: Order a social security search. This search shows every address associated with a person's social security number. If there's been a deliberate omission, this search may uncover the grim truth and help you protect your workplace.
Don't be haunted by a bad hire. Performing due diligence during the hiring process with thorough background checks, helps you combat these spooky situations. Make sure you're hiring the best person for the job applicant's claims with multiple background screening tools. That way you can maintain a safe, productive, workplace with more treats and fewer tricks.