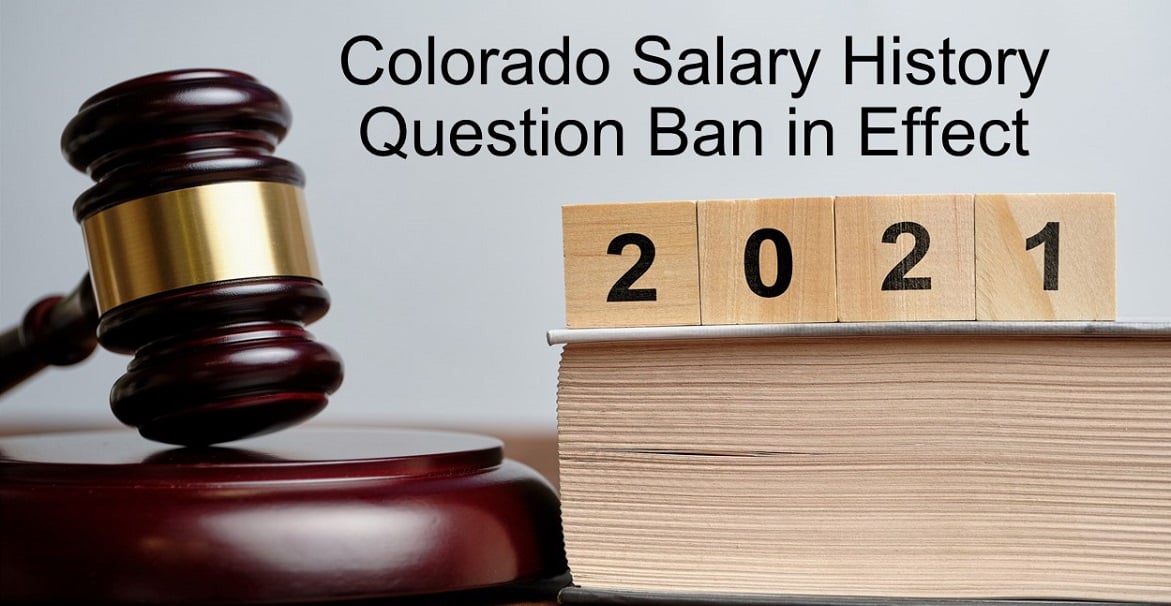 Colorado is the newest state to follow the trend of banning the salary history question on the application and during the interviewing process.
The Equal Pay for Equal Work Act law, which was signed by the governor in May 2019, took effect on January 1, 2021.
What Is the Law?
Colorado employers are prohibited from discriminating on the basis of sex (or sex in combination with another protected status) by paying employees of different sexes differently for substantially similar work—regardless of job title—based on a composite of skill, effort, and responsibility. However, pay differences are permitted if an employer can demonstrate that the entire differential is based on a seniority system and/or a merit system, such as:
a system that measures earnings by quantity or quality of production

the geographic location where the work is performed

education, training, or experience to the extent they are reasonably related to the work in question

travel, if the travel is a regular and necessary condition of the work performed
The law does not define the terms "seniority system" or "merit system." Moreover, the employer must be able to demonstrate that it did not rely on prior salary history to justify a disparity in current pay.
Salary History Question Ban
Colorado also becomes the latest state to prohibit employers from seeking salary history from job applicants. If the employer learns of an applicant's prior salary, the employer cannot rely on that information to determine current pay.
Employers Must Include Salary Range in Job Postings
Part two of the legislation, "Transparency in Pay and Opportunities for Promotion and Advancement," will require significant changes to Colorado employers' internal and external application processes. For both internal and external job postings, Colorado employers will be required to list the salary range for the position and a general description of the benefits and other compensation for the position. For internal openings, employers must make reasonable efforts to tell all employees about the opening on the same day, and prior to making a promotion decision.
Fines, Lawsuits, and Such
An applicant or employee who believes an employer has violated any of these provisions of the bill may file a lawsuit within two years after an alleged violation occurs, with no requirement to go through an administrative process as a prerequisite to bringing suit. However, an aggrieved individual may choose to file a charge with the Colorado Civil Rights Division, and the Colorado Department of Labor (DOL) may create and administer a process to accept and mediate complaints and provide legal resources.

Every time an employee receives a paycheck with a discriminatory wage rate, a new violation occurs for purposes of the two-year statute of limitations. However, an aggrieved employee may obtain relief for a back-pay period not to exceed three years.

For the job-posting portion of the bill, employees may file a written complaint with the Director of the Colorado DOL within one year of learning of the violation. If the Director determines, after investigation, that that a violation occurred, the employer may be fined between $500 and $10,000 per violation.
An employee who sues under the first part of the statute demonstrates a violation of the posting requirements in part two, the court may order "appropriate relief," including a rebuttable presumption that any records the employer was required, but failed, to keep contained information favorable to employee's claim, and a jury instruction that failure to keep records can be considered evidence that the violation was not made in good faith.
Employers in Colorado need to review and update their job descriptions, create salary ranges for each position, and write out documentable processes for staying in compliance with this new law.
Portions of this article were first published on the Littler website and can be viewed here.